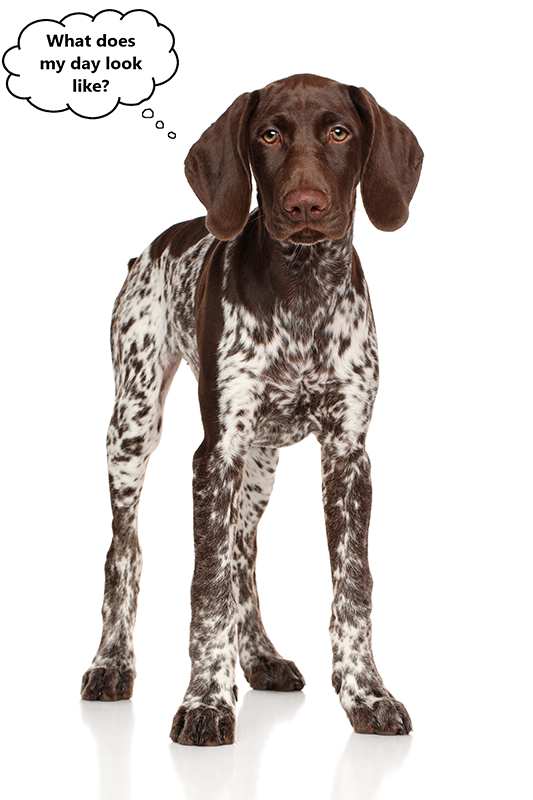 Now this is my favorite part of the morning, even better than seeing the morning crew and getting to play.  I watch eagerly as the trainer walks back and forth, loading up all the Bird Dogs that are staying at the kennel for school.
I can barely hold in my excitement.  Actually, I can't hold in my excitement, which is why I'm jumping up and down, barking as loudly as I can, hoping I can catch his attention.  My training time might be the best part of the day but waiting for my turn is the worst.
I know I could find every bird in the field, maybe even every bird in the whole world, if only he would hurry up and get to me.
Finally, he comes to my kennel and it's off to the training grounds.  Accessorized with a Dogtra E-Collar that beeps so the trainer can't lose me, I am at last let off leash to do what I do best.
I find every single bird and I know the trainer is proud of how far I've come with my Bird Dog Training.
I have done my best and back up the kennel we go.  I can tell the staff have already finished feeding and medicating for the morning and now they are focusing on the daily sanitation of our kennel runs.
I like all the ladies who work here.  They may not let me out to run in the field and hunt birds but they are kind and patient and let me play in the yards all day long.
Thank goodness, its dinner time.  I definitely earned my meal tonight.  I lick the bowl clean, then wait for another turn in the exercise yard.  It's the perfect way to end the day!
Being at Valhalla is my happy place!