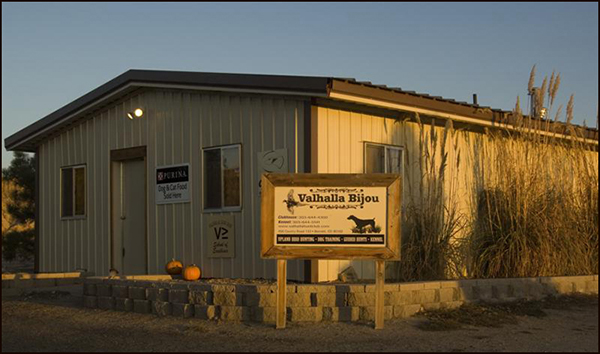 Boarding Rates
All kennel rates include kenneling, feed, medication and daily exercise. Field training, obedience, and conditioning available, just ask! By regulations we must have up to date health papers on file for each dog. So please make sure you bring these papers with your dog(s) or have them faxed to us at 303-568-7632. All fees are due and payable when picking up your dog. We accept cash, checks, Visa and/or MasterCard. Our normal business hours are 8:00am to 6:00pm, seven days a week. Given advanced notice, special arrangements can be made and are always at the discretion of Valhalla Kennels. Reservations are always required and advanced notice is especially important around the holidays. Valhalla Hunt Club members receive priority for kennel space during holidays.
1 Dog Boarding
$30.00 per Day
2 Dogs Boarding
$50.00 per Day
Daily Training Rate

Does NOT Include Birds
Includes Boarding

$40.00 per Day
Monthly Training Rate

$100 Bird bill applied to each month of training
Includes kenneling and feed
Includes private 1 hour handling session upon completion of training.
1/3 off Membership per month of training

**Monthly training rates apply to the Trained retrieve program

$900.00 per Month plus birds
1 Dog Monthly Boarding (30 Days or More)
$600.00
2 Dogs Monthly Boarding
$900.00
Grooming (Bath & Brush)
$20.00 per Dog
Medication Fee
$12.00 for the stay
Trip Service Fee
$40 Pick up & $40 Delivery
Licensed and inspected by the Colorado State Dept. of Agriculture
Note: The daily lodging fees begin on the day you drop off your pet, regardless of what time of day it is. However, if you pick up your pet before 10:00am, no lodging fees will be charged for that day. If you will be later than your pre-arranged time to pick up your pet, PLEASE contact us as soon as possible.