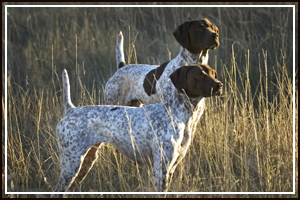 Valhalla Kennels is the premier German Shorthair Pointer breeder in the nation. The breeding program at Valhalla is founded from a collection of the best shorthairs in the history of the breed including Hall of Fame legends Dixieland's Rusty, Rawhide's Clown, and Hill Haven Hustler. After decades of highly selective breeding Valhalla in now producing the champions and foundation stock for tomorrow. Valhalla Kennels strives to produce well balanced dogs with unequaled natural ability in each litter. Careful consideration is given to each breeding to make sure that sires and dams are well matched to produce the caliber of dog that  our customers expect. According to the AKC, Germans in the late 19th and early 20th century selectively bred the GSP for biddability, with steps taken later to improve stance, style, and nose in order to produce the quintessential field dog. At Valhalla Kennels we continue to refine this breeding philosophy with an emphasis on adding natural intelligence and calm demeanor to the breeding criteria. Valhalla German Shorthairs have been put to the test as high performance guide dogs, national competitors, and endurance athletes. When not in the field our dogs make excellent companions and have proven themselves to be loyal family pets. References are available but the best way to experience a Valhalla German Shorthair Pointer for the first time is to book a hunt and watch them in action. We would love to show them off in the field and have them speak for themselves.
Born June 12th
Accepting deposits on 3 male lab puppies
Final breeding of "Charleston & Beamer"
Proven Bird Dogs and first-rate family members
$1000
Includes vaccinations, microchipping, health guarantees, and AKC registrations.
GSP Female
D.O.B. 1-11-2017
Great pup with lots of prey drive and natural ability. Will be medium ranging and loves people.  Will be ready to go this fall.  Call Jeff for more info. 393.589.6799
Miley is a 6 year old Yellow Lab Female.  Professionally trained at Valhalla Kennels and ready to hunt this fall.  Housebroke and exceptional manners.  Good off leash control and gentle with children.  
Miley has been staying in the front office at the Valhalla Clubhouse for the past month.  Has been around countless people and children.  The worst that has been observed is she growled once at the UPS man and likes to steal cookies out of kids hands.   Other than than she has been a pleasure and we have never had to worry about her and would feel confident in recommending her as a companion and a bird dog.  We feel Miley would do best in a home where she can be around people most of the day.  She does not need a huge yard and doesn't require a ton of exercise.  Very easy keeper!! Call the kennel or just stop by the office to meet her.